Bactronix is Committed to Helping to Slow the Spread of Harmful Viruses and Bacteria
That's why we developed a state-of-the art non-toxic cleaning formula and disinfection process that is guaranteed to eliminate 99.9% of bacteria, viruses, and illness causing germs.
Germs:
The Invisible Enemy
Many cleaning companies indicate they can disinfect your property. At Bactronix, our proprietary cleaning solution and delivery system is scientifically proven to remove 99.9% of germs, viruses and bacteria…and we can prove it to you!
BactroKill is an EPA registered antimicrobial spray disinfectant.
This product disinfects against viruses and bacteria such as: Coronavirus (SARS-COV-2), Swine Flu (H1N1), Bird Flu H5N1(Avian), MRSA (Staph), HIV, Salmonella, Canine Parvo Virus, and many more. In addition, BactroKill is highly effective in eliminating mold and mold spores.
It's specifically formulated for residential use and can be applied on any surface. Best of all, you can use this product without worrying about using harmful chemicals in your home.
An Industry Leader in Eco-Responsible, Non-Toxic Cleaning Products and Solutions
Over the years, we've perfected our Bactronizing® process to remove all sorts of harmful germs. It is backed by years of research and science and is marked by a seal of certification.
Our process eradicates nearly all the dangerous microorganisms in a given area, making it safe for your family without any harmful side effects. Our exclusive process also prevents any bacteria from reforming over time, giving you peace of mind that you are doing everything you can to keep your loved ones safe and healthy.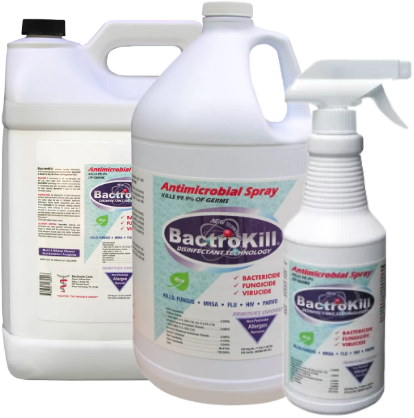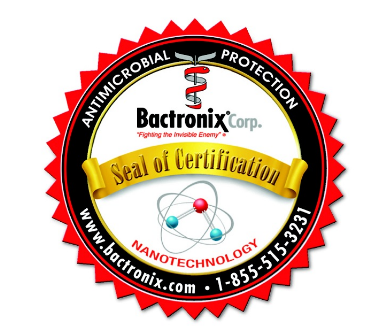 Look for the Bactronix Seal Wherever You Go
Trusted by Our Customers.
Backed by Science.
Each establishment or vehicle treated by our Bactronizing® process is given a Bactronix Seal of Certification sticker to display. This seal is backed by years of research and science.
When you see our seal you can trust that that the establishment or vehicle you are entering was thoroughly disinfected to eliminate 99.9% of harmful germs and bacteria by state-of-the-art, non-toxic, eco-responsible disinfecting technology.
Partnering with Car Dealerships, Auto Detailers, and Transportation Companies to Slow the Spread of Harmful Pathogens
PITTSBURGHS #1 MOST TRUSTED VEHICLE DISINFECTION AND ODOR REMOVAL SERVICE PROVIDER
When you partner with Bactronix for vehicle disinfection and odor removal services, we will offer services to you on a regularly scheduled basis at a rate that best suits your business needs. It's a deal that can't be beat!
Disinfect & Be Eco-Responsible
Bactronix's hospital grade, EPA registered disinfectant products are proven to be highly effective against all sorts of germs. Our products eliminate 99.9 % of bacteria, viruses and contaminates. Plus, our process prevents future outbreaks. Our disinfecting solutions are applied with an electrostatic spray system, which is the most effective way to coat non porous surfaces.
Disinfecting Solutions for Everyone
Building Trust
Through proven expertise and results






Our bathroom always has a bad smell, I have cleaned with bleach, vinegar from time to time, it can help some but never completely gone and the stinky smell came back in 1 or 2 days. I thought it might be caused by pipe leak or toilet flange not sealed well. We just plan to remodel our bathroom to solve this issue. Recently I bought 1 gallon of bactrokill product for disinfecting a mold-infected room. gave a try to spray the bactrokill in this bathroom. To my surprise, the smell was immediately gone. I was so excited since this bad smell has bothered us for more than 3 years. I then used bactrokill to give a thorough wipe for all the surfaces I can reach in the bathroom, toilet, vanity, mirror, floor and walls. It has been 2 weeks, the bad smell never came back. I really need to thank Bill who introduced us this bactrokill product. I have contacted Bill several times, he always responds to my messages or calls. He was never overselling the services. He gave us suggestions to solve our issues.
I hired Bactronix to come in and sanitize my business. Over the process I spoke with 3 employees. They were all very kind and helpful. They were priced lower than the 2 other companies I contacted but what was even better than the price was the time they spent to discuss the process and explain the materials they were going to use. Bryan came in the same day that I approved the work. He took the time to explain the process. He was very thorough and made sure I was satisfied before leaving. I am so glad I choose this company. Thanks to all of you for your excellent service!
Service technicians Brandon and Robbie were on time and started promptly. They explained the entire process to me, they were extremely helpful, courteous, and professional. I would highly recommend their services to family and friends.
Ken was professional and went above and beyond to make my real estate clients happy. He spray-treated to sanitize their home against Covid. Very reassuring, and I would highly recommend both Ken and Bactronix!