Air Duct Cleaning Pittsburgh
How Clean is the Air
in Your Home?
You make sure your surfaces are clean and disinfected. You see the value in having a clean home. But what about the air? Health conditions like allergies, asthma, COPD, and others can be harmed by contaminants in the air. Professional air duct cleaning can help remove these contaminants and improve air quality.
Download our Air Duct Cleaning Checklist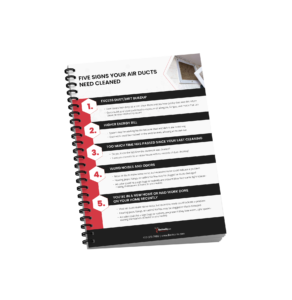 Learn the 5 signs you need to get your air ducts cleaned
Germs:
The Invisible Enemy
Your air ducts can carry spores from black mold and bacteria. Plus, allergy triggers like fungi, pollens, dust mites and pet dander all linger in air ducts. Young children and the elderly can be more susceptible to the health conditions that are a result of poor air quality.
Depending on your type of business, your employees might spend up to 10 hours a day at work. Are they complaining of headaches or fatigue? The last thing you want is for them to get sick on the job.
Why Have Your Home Air Ducts Cleaned?
Buying a new home
Owning pets
Excessive dust on floors and furnishings
Allergies, asthma, or an autoimmune disorder
Musty odors
Buying a new home
Owning pets
Excessive dust on floors and furnishings
Allergies, asthma, or an autoimmune disorder
Musty odors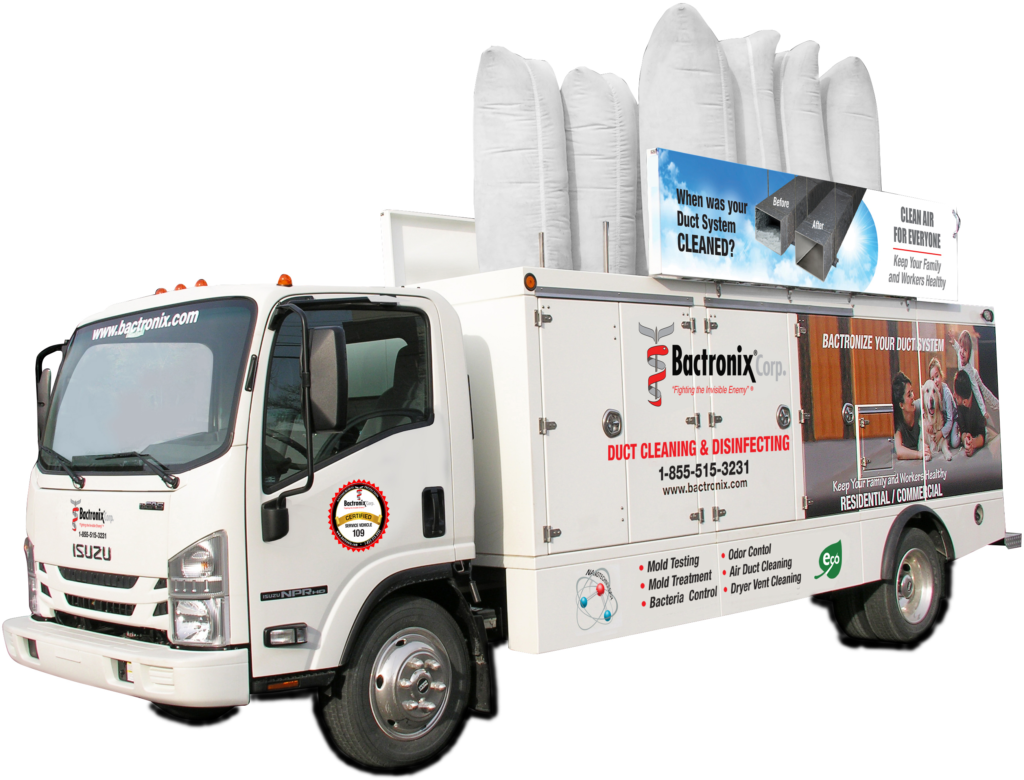 Second Wind UV Light Installation
We can also clean your bath fan exhaust and dryer vent. Plus we can provide a UVlight installation service on your ducts. This has been proven to protect against airborne pathogens such as E.Coli and others.
The Process of Bactronix Air Duct Cleaning
Our exclusive Air Duct Cleaning process includes 100% disinfection and protection from bacteria, mold, allergens and odors and is backed by a certification and 1-year warranty.
Test
Our process starts with testing to determine the condition of the air ducts before they are cleaned.
Clean
Next, your ductwork is connected to our state-of-the-art vacuum truck for a thorough cleaning. All registers, grills and furnace doors are hand washed and central air conditioning units are also cleaned.
Disinfect
Once the ducts are cleaned, they are treated with our eco-responsible, EPA registered, hospital grade disinfectant and deodorizer.
Re-Test
The ducts are then tested again, so you have proof of the significant improvement in the air quality after they are cleaned.
Protect
After the ductwork is tested and confirmed to be back to healthy levels, our protectant is applied to establish environmentally responsible Micro-Biostatic antimicrobial protection. This process has residual efficacy that inhibits mold, mildew, and fungi for extended periods of time.
Building Trust
Through proven expertise and results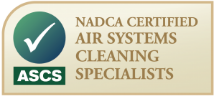 I want to share an absolutely wonderful experience i had with Bactronix. From start to finish the level of professionalism was something that is so hard to find in today's market, but with that being said the techs Jeremiah and Kaleb were amazing, they were kind, Knowledgeable, willing to absolutely go the extra mile for my home and family, the before and after was clear. I would recommend and have recommended Bactronix to ALL my neighbors, friends, and family. to all whom read this, this company will not let you down. THANK YOU THANK YOU BACTRONIX and JEREMIAH and KALEB . Sincerely a Satisfied customer, I give 20 stars
Mike and Jose were wonderful. Very friendly and professional explained what they would be doing. Cleaned up the entire work area. Sent before and after pictures…amazing! Also, Tiffany who I spoke with to set up our appointment was also wonderful. Would definitely recommend this company. Outstanding service.
The most pleasant, and professional workers I have ever had the opportunity to be around. Kind, considerate, and explained everything they were doing, very informative. They even helped me locate my cat, who went into hiding during their time here. I would Give them more than 5 starts if it were an option, and I truly enjoyed them being in my home. I highly recommend their services.
If you need your vents cleaned, look no further. The process from start to finish was excellent. I called in and talked to Paul to get a quote. He explained the whole process to me and gave me a quote via email. I had follow up questions and he answered very quickly. I received 0 pressure from him. I could tell how confident of his service he was that he had no need to be a "pushy" salesman.
Schedule an Appointment
With a certified Specialist
CHECK OUT OUR LINE OF DISINFECTING PRODUCTS